$89.00 / year
Suess Photo Training VIP MEMBERSHIP - All Courses - Streaming Only
$9.99 / month
Suess Photo Training BASIC MEMBERSHIP - All Courses - Streaming Only
Course description
Order my ON1 Photo 10 Comprehensive Step-by-Step Online Training Video - the most complete ON1 training video available! This is the Streaming Only version. A Streaming & Downloadable version is also available.
This course is the successor to my popular Perfect Photo Suite 9.5 Online Training Video and it has been completely re-recorded and features more videos, more photos, and more instruction.
It features over 100 videos and has over 10 hours of content, and you can have your choice of getting just the online streaming version or the streaming & downloadable version.
Learn ON1 Photo 10 with the most comprehensive step-by-step training course available!
Whether you have already watched the excellent free ON1 training videos or not, this course will break down ON1 Photo 10 into a clear and manageable step-by-step guide that is designed to accelerate your learning by guiding you through the program with over 20 included photo files that you will progress with following me step-by-step.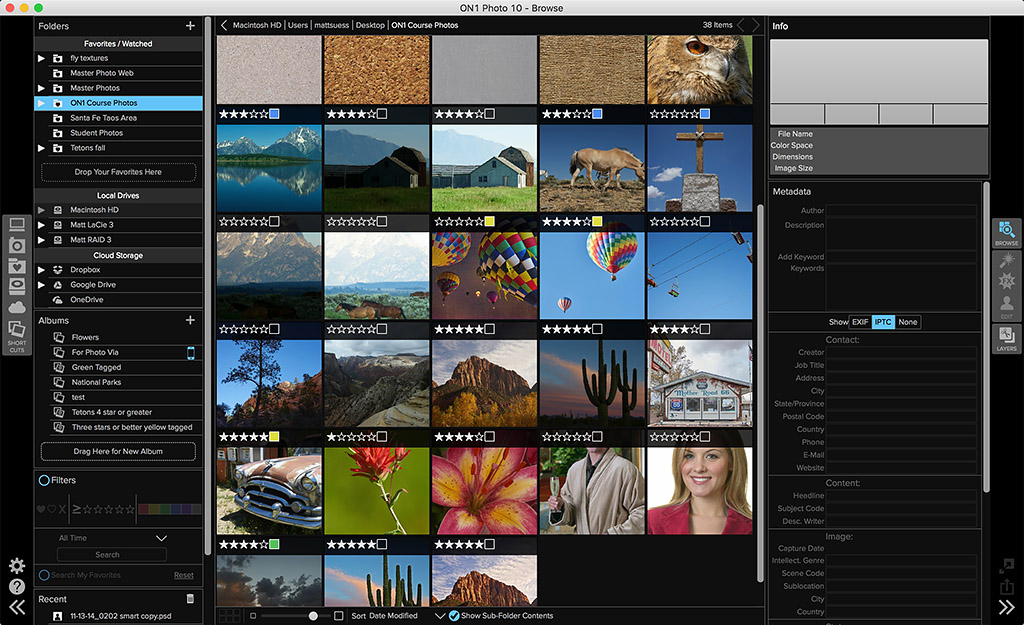 Each photo was specifically selected from my own photo collection for this course to help you understand both easy and complex image enhancements and application of effects. This course isn't just designed for you to watch and absorb the information, but it is suggested you follow along step-by-step with the included course photos. This process will allow you to learn and grow with ON1 Photo 10 faster than any video course available. My videos have helped thousands learn ON1 Photo / Perfect Photo Suite, and they can help you learn too!
This is the most comprehensive course available and goes into more depth than ON1's excellent free videos. Here is a sample of extra content provided:
how to work in Layers
Mobile with Photo Via
how to mask out and replace skies
suggestions on how to organize your photos
16bit vs 8 bit discussed
color spaces explained
how to use ON1 with Capture One Pro and Lightroom and Photoshop
how ON1 really handles RAW files and what it is lacking
printing inside ON1
resize with the included Resize 9.5 and Photo 10
benefits and issues when working with Smart Photos
how to import textures & skies and presets
a complete section on what's new with ON1 Photo 10
how to effectively use the Eraser and Healing Brush
how specifically the Perfect Brush works
a complete guide to the masking tools
a complete section devoted exclusively to the Black & White filter
all 25 Effects filters explained
over 20 course photos
included free textures and cloud backgrounds
free presets
and much more.
My videos are easy to follow too! Mouse clicks are highlighted in red so you don't get lost, annotations are edited in to highlight specific areas, and my screen is zoomed in and out when needed to show more detail.
This course is modeled off of my hugely successful 2-day Classroom Crash Course that I have been teaching for the last few years in: Scottsdale, Tempe, Santa Fe, & Dallas, with new locations planned for 2016 in Tempe, Bozeman, and Portland.
This course provides you with over 20 course photos - the same photos I use in the videos. You can follow step-by-step with the course photos as I explain how to edit photos in Enhance, Layers, Effects, Portrait, as well as in Black & White. The course also includes 14 FREE textures and clouds from my collection, and FREE Presets to get you started in enhancing your photos. One of the presets included is my go-to formula for starting to enhance my own landscape photos.
Over 100 videos are available, and there is a new and easier way to download them if you purchase the downloadable course.